What is ZUMBA?
A Latin-Inspired dance-fitness class, incorporating Latin and International music and dance moves, ZUMBA is a dynamic, exciting and effective fitness system combining fast and slow rhythms that tone and sculpt the body.
There are easy-to-follow steps that include body sculpting, which targets areas such as gluteals, legs, arms, core, abdominals and the most important muscle – the heart!
Designed for everyone – ZUMBA is fun, different, easy and effective!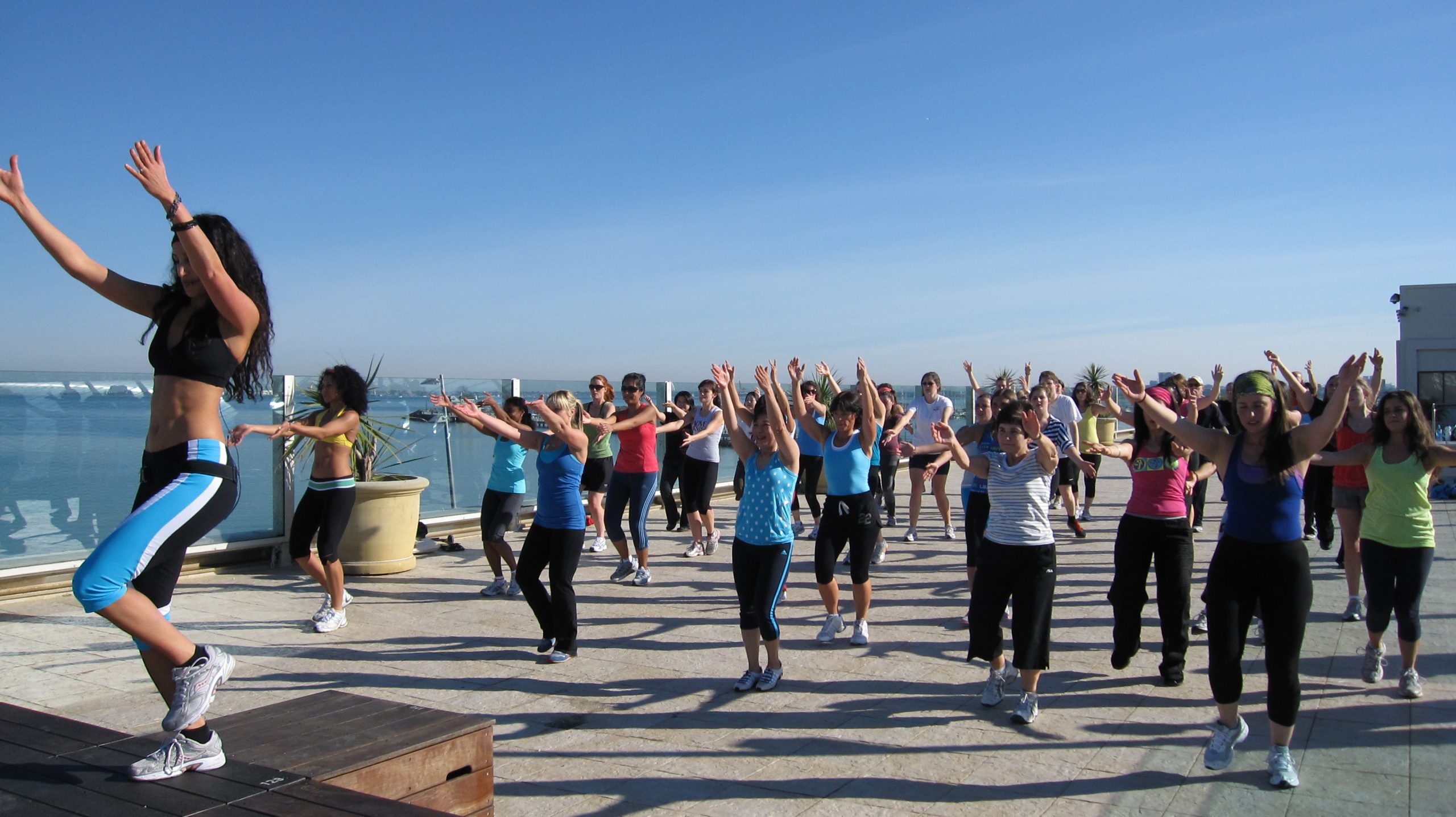 The key to achieving your goals:
The key is to adhere to a fitness program. The fun and easy format makes this possible. As participants keep coming back, they start to see their bodies change and then start to feel better about them-selves.
It's great for the mind, body and soul.
The Science of Zumba:
Group fitness classes are often categorised as (and some benefits include):
Flexibility – Pilates etc
Mind/Body – Yoga etc
Aerobic – Hi/Lo, dance etc (strengthen heart muscle, improves circulation, raises metabolic rate, increase efficiency of cardio-respiratory and cardiovascular systems, more)
Muscular – Pump etc (Improves posture, muscle strength, muscle mass, bone density, raises metabolic rate, helps reduce injury during normal activities, more)
Interval – Kick boxing, spin etc (Increases cardiovascular output, increases lactic acid threshold to permitting higher levels of intensity, provides variety, all fitness levels, more)
Each category has its own benefits
While many of these benefits cross over among several groups. ZUMBA crosses over all these groups. It's high energy, motivating music and unique moves allow the ZUMBA participant to dance their worries away. There is a fun factor that increases the intensity of the workout. This "feelhappy" workout improves self-esteem, self-confidence and self-image.
Benefits of ZUMBA:
Positive self-image: High level of "feeling good"
Great dynamic core workout: ZUMBA moves require high control of the mid section (abs and back). This has the potential to translate into a tighter more defined torso.
High caloric expenditure: Aerobic and Interval training methods used. This will vary with each individual depending on variables such as fitness level, familiarity to routine, intensity level etc.
Easy non-intimidating learning environment: easy-to-follow steps in a party-like format
Weight loss: consistency is the key and a well balanced, sensible nutrition program will increase the likelihood of weight-loss.
A sculpted body: ZUMBA will potentially re-shape your body, including your upper, lower, mid-section, heart and mid.

Exercise in disguise! ZUMBA is GREAT SWEAT! Most people say they are having so much fun and they don't even realise they are exercising!
Become a United By Keren member and enjoy special prices and events
If  you are interested in becoming a member please fill the form with your details and we will get back to you really soon.
Contact us to find out more about United By Keren.